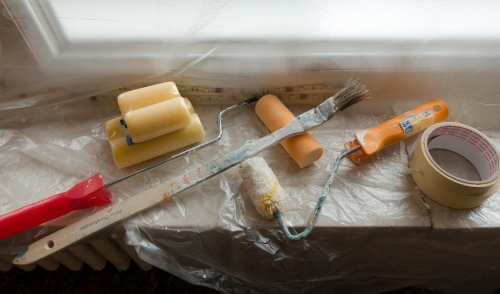 When it comes to DIY projects, painting probably tops them all. It can be quick, easy, and simple. Let's be honest, it is also fun. Interior painting allows people to challenge and improve their home while also feeling empowered that they were able to do it themselves. It allows people to shop for colors and learn new tricks so that the next interior painting project is a breeze.
Knowing the tricks of the trade when painting is important because it makes your interior beautiful, but there is one trick you may not know yet. All the supplies you use for your interior painting projects can be rented. I am not talking about paintbrushes and paint. Those are disposable and reusable tools that every person should buy. However, when it comes to sprayers, resin cloths, ladders, and etc; these are items that you should rent to save money. There are many reasons why you should rent what you need for your next interior painting project. Every DIY painting project is unique to the person who is doing the project meaning everyone may need something different. For example, if you are flipping your first home you may not own ladders, scrapers, and sanders. These kinds of tools can cost money to own, but only a fraction of the cost to rent. For others it could be an issue of storage. Not everyone owns a garage to store all of his or her tools. Not everyone owns a house and may live in an apartment. However, everyone who lives in a house, apartment, or even a room has an interior that they can paint.
Whether the ceilings are high or low there is a lot one must to do to prepare for their project. Some of the items you can rent are ladders, industrial fans, paint sprayers, trays, caulking guns and a small toolbox. Ladders are rented the most because they are expensive and tough to store. If your interior has high ceilings it is a must-have to finish your project. With houses and rooms becoming more tightly sealed for energy efficiency, industrial fans are essential. Many people forget to ventilate their rooms before they crack open a can of paint. Fans can help suck out the fumes providing you with cleaner air and less headache. If your project is bigger than normal or you have less time to complete the project, then you should consider renting a paint sprayer. A paint sprayer can help you apply a coating over ten times faster than any other brush and more than four times any roller giving you a easy to do, uniform finish. Some sprayers even offer attachments that can help to make painting tight areas a breeze. These are just some of the items you can rent for your next interior painting project.
Preparation is crucial for any interior painting endeavor. Equip yourself with the right supplies by renting what you need to make your project simple and easy.