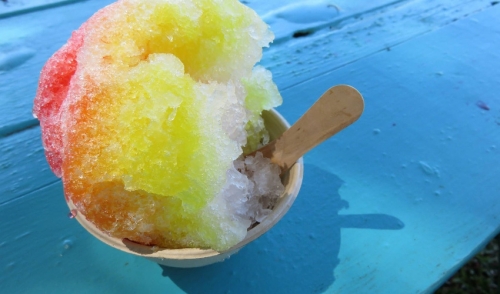 Trying to think of a great idea for a summer bash this year? If you're like a lot of people these days, the best destination for summer fun can be as close as your own backyard. Cookouts or get-togethers with friends, family and neighbors are great, but did you know that when it comes to rental, we have everything you need to transform your average summer event into a backyard carnival?
A backyard carnival can crank up the fun for many occasions, such as birthdays, graduations, family reunions, or even fund-raisers. Maybe you're just looking for a way to experience summer fun with the kids without all of the driving, high-gas prices, and cost of lodging. No matter what the reason, a backyard carnival is almost as much fun to plan and create as it is to attend.
Though every event is different, they all follow the same basic recipe for fun. Here are some ideas and other things to consider in order make your very own backyard carnival something special:
Planning is Key
Pick a date that works with as many people as possible. For starters, try to create an event on Facebook, and you'll quickly get an idea of what day works best with everyone. It's also a great way to recruit volunteers to help and coordinate other facets of planning. Your volunteers (preferably adults) can help by running booths and monitoring kids to ensure that everyone is having a good time, while keeping safe.
Invitations
You could simply send your invitations out via email or Facebook; however a great way to involve the kids and start building the excitement is to let them help. Whether handmade invitations from construction paper or edited on the computer, this is an opportunity to get creative. Maybe your message could be printed out on enlarged "ride" tickets or on stationary made to look like old-fashioned striped popcorn bags. The fun can start long before the carnival does!
Carnival Fare
What could be more fun to make and eat than carnival food? Depending on your skill level and available equipment, you could serve the basics, like hot dogs, hamburgers, soda, etc. Or you could go with corn dogs (on a stick, of course!), elephant ears, or pizza --and let's not forget the cotton candy and popcorn. Whatever you decide, when it comes to your rental needs, we can provide you with:
Cotton candy machines
Popcorn makers
Deep fryers
Tents, tables and chairs
Chafing dishes and other serving supplies
Worried about desserts? Hold a dessert cook-off with a blue ribbon given out at the end of the event. You won't have to bake a thing!
Carnival Fairway
Here's where most of the action happens at your carnival --the games and rides. Depending on space considerations, you can get as big as your budget and time allows. If you plan far enough ahead, then weekends with the kids making banners or decorations are a great way to make memories and let the anticipation grow. Regardless of the size, some carnival essentials shouldn't be missed and we'll be happy to assist you with these:
Dunk Tanks
Bounce Houses and other inflatables
Bungee run
Skee-Ball
The Hi-Striker
Other ideas
A photo booth with dress-up clothes or costumes is a fun way to preserve memories and even have posted to the event on Facebook. The costumes could be homemade or rented.
Kids could "go fishing" in a large tub of water for plastic eggs that contain small prizes. They could use a slotted spoon or fish net.
Have one of the volunteers dress up as a fortune teller. Pre-written (and of course, silly) fortunes could be written on the underside of cards.
The main event could be a talent show, with "celebrity" judges. Everyone could cast a ballot and announce the winner at the end of the event.
Know someone with a pony? Pony or wagon rides are a great way to entertain the kids.
Remember to take lots of pictures! You can make a memory album and make it available online for all that participated. As you can see, the possibilities are nearly endless. It may seem like a lot of work, but remember that we're here to help. Give us a call and we'll be happy to provide you with the right equipment and ideas to make your backyard carnival a fun, safe and memorable time for all. Who knows, you might end up making it an annual tradition!